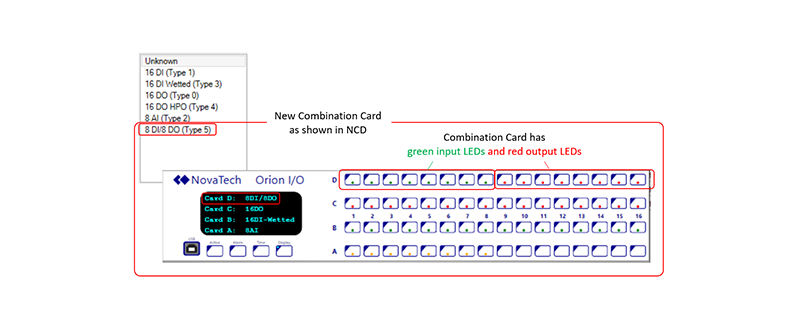 Orion I/O Enhancements
PUBLISHED ON Oct 17, 2019
8DI/8DO Combination Card
This new I/O card includes eight DI circuits (identical to the circuits on the 16 DI Card) and eight HPO Outputs (identical to the ones on the 16 HPO Card) and "Feedback Dropout" firmware for closed-loop breaker control. Feedback Dropout enables this card to be configured to turn OFF a designated output when a designated input – e.g. a 52a or 52b breaker position switch – turns ON or OFF. This simplifies configuration by overriding the pulse output time and enables all output configurations to be the same. Without this Feedback Dropout feature, some users with widely varying breaker age and breaker design must configure different pulse output times to accommodate varying breaker operate times.
The simplified circuit below shows a typical application for the Combination Card when "Feedback Dropout" is configured. In this breaker close example, the 52b contact is monitored by an input on the Combination Card. In a breaker closing scenario, the opening of the 52b will turn the CLOSE output OFF.
Display Scaled Analog on Orion I/O
The 8-point Analog Input Card always had the ability to display the analog point names and signal levels (e.g. ".642mA") on the Advanced Display. It is now possible to also display the scaled engineering value, such as "175 degrees F," or "Position 3." Setup is done in NCD; the user simply associates the high and low engineering values with the high and low incoming signal levels.

LED Input State Inversion
This is now available as an optional configuration feature on any of the Orion I/O cards that have discrete inputs (16 DI Card, 16 DI Wetted Card, and Combination 8 DI/8 DO Card). It is useful in alarm annunciation applications where an ON LED indicates the abnormal or alarm state. Before this development, Orion I/O input LEDs would illuminate only when field voltage was incident on the wiring terminals. With the new state inversion feature, the input LED can be configured to illuminate when field voltage is not incident on the terminal.
Commercial Changes for Orion I/O
• Cascaded Slave, currently ordered on most Orion I/O's, will become standard. The option number #98 will remain in the Model Number but will not be specifically selected by users.
• Any two Slave/Server protocols (e.g. Modbus serial & DNP serial, or MB TCP & DNP TCP) will be available as standard.
• Master/Client protocols will now be available on the Orion I/O.
Protocols available:
> DNP Serial Master and TCP Client
> MB Serial Master and TCP Client
> SEL Serial Master and SEL TCP (STCP) Client
> IEC 60870-5-101/103/104 Serial Masters and TCP Client
The diagrams below show two new applications we can now support with Master/Client protocols on the Orion I/O: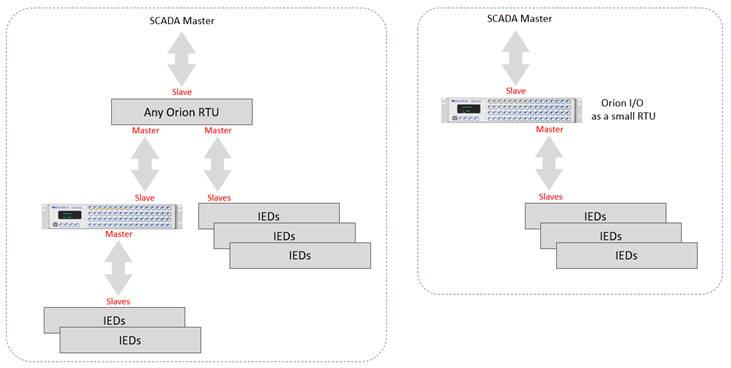 New Orion I/O Product Description Chart
The Orion I/O chart below includes the new features and capabilities described previously, including the new 8DI/8DO Combination Card, standard Cascading software, more Slave/Server protocols as standard, and Master/Client protocols: