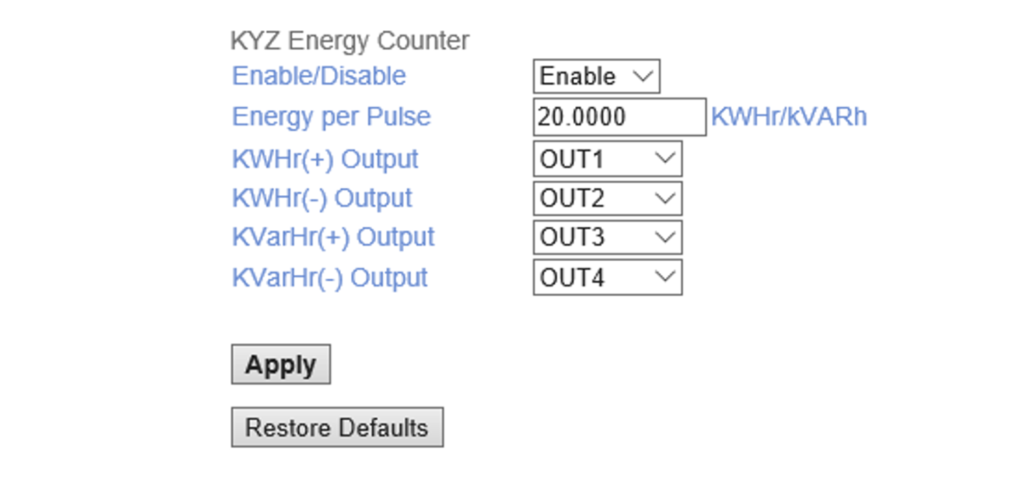 Two New Energy Applications Supported by Bitronics 60 Series Meters
PUBLISHED ON Aug 14, 2019
Bitronics meters support revenue class accuracy, cover three input ranges, and include line and transformer loss compensation. Two new features – the KYZ pulse output and Class 20 Accuracy – expand Bitronics application as a backup to revenue meters, notably at tie points on the grid.
KYZ Pulse Outputs
These four pulse KYZ outputs are sent to an external counter, and may be used for meter verification. Specifications:
Type:  Form A, SPST, solid state relay, maximum input voltage 170V, maximum current 130mA, on resistance 25 ohms
Accuracy: Long-term average accuracy limited by meter (.2% class)
Max Pulse Rate: 20 pulses/sec
KYZ output configuration is accomplished easily via the Settings/Input screen of the webpage served from the Bitronics M66x meter. When the 4 digital KYZ option is ordered, the positive and negative KWHr and KVarHr can be assigned to any of the four outputs in whatever order is desired.
Class 20 Revenue Accuracy
The second energy metering option is the addition of Class 20 revenue accuracy input to supplement previously available Class 2 and Class 10. The 60 Series meters with the Class 20 option meet the accuracy portion of the standards listed below:
ANSI C12.20, 0.2CA
IEC 62053-22, 0,2S
IEC 62053-23, 0,2S (Reactive)