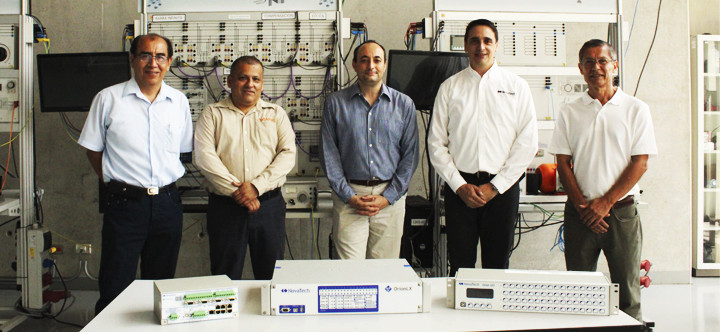 NovaTech Automation & Caral Soluciones Energeticas (Peru) Donates Equipment to UTEC's Smart Grid Lab
PUBLISHED ON Feb 26, 2019
On January 23, UTEC's Smart Grid laboratory received an important donation, a product of the cooperation agreement between the Energy Engineering Directorate and NovaTech Automation LLC (USA), a leader in substation and solution automation for the electricity sector, and Caral Soluciones Energéticas (Peru), dedicated to the service and commercialization of distributed generation solutions, renewable energies and specialized supply for the electrical industry.
The donation received consists of three modules, part of the OrionLX Substation Automation Platform, which are used in the generation, transmission and distribution electric substations as interfaces to monitor and control the electricity network; also technical support, training and specialized talks to teachers and students in the latest trends of "Smart Grid" as digital substations, cybersecurity, smart grids, preventive maintenance based on condition among others. This platform will be incorporated into the Smart Grid system with which UTEC already has an interface between our educational simulation and research equipment and real electrical and industrial applications.
"These types of links with companies are the basis for building bridges between academia and industry that contribute to the formulation of new projects and the training of talent that adds to the development of the innovation ecosystem in the country," says Alexander Espinoza, Manager of Accounts of the Business to Education Center of UTEC.
Also, Julien Noel, Director of the Energy Engineering career , commented on the importance of having this type of equipment: "Having our laboratories at the forefront allows us to train our students while having in place the most modern technologies and also allows that our teachers have them both for the academic update and in the development of research. "
On behalf of UTEC, Julien Noel, Director of Energy Engineering, together with teachers of the specialty, Elmer Ramírez and Rafael Vera participated in the event; as well as Alexander Espinoza, Account Manager of the Business to Education Center of UTEC; On the side of the companies, we were accompanied by the Vice President of Global Utility Strategy of NovaTech Automation, Guillermo Velarde and the General Manager of Caral Soluciones, Carlos Valdivia.