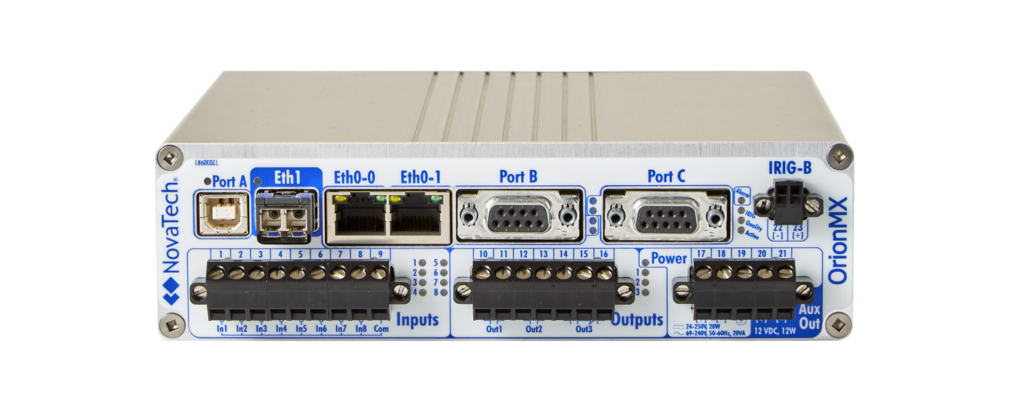 The OrionMX: The Next Big Little Thing
PUBLISHED ON Jan 23, 2020
Introducing the OrionMX, the new, smallest member of the Orion family of automation platforms. It is designed for applications in smaller distribution substations, pole top, and vaults. It is also designed for OEM applications, protocol conversion, and general infrastructure monitoring.
Key Features
Small Size and Mounting Flexibility
The combination of small size – 7" wide, 2" high, and 6" deep – and "single-face design," where all the connections and LEDs are on one side, makes the OrionMX a candidate for the smallest panels. Multiple mounting options, including DIN rail, expand efficient design options.
Common Orion Architecture
The OrionMX is configured with NovaTech Automation Configuration Director (NCD), the same tool used for all Orions. It also runs on the same firmware as the other Orions: OrionLX+, OrionLX CPX, OrionLXm, and Orion I/O. The OrionMX is available with the same software options as other Orions: Math & Logic, Web-based HMI, Alarming, SOE, Redundancy, Relay Communications Processor, Email, Configuration Backup, etc.
Software Configurability
Extensive software configurability enables a single physical OrionMX model to handle a wide range of applications. The following are configurable in software:
• The two-port RJ45 Ethernet switch can be configured as two copper NICs.
• Each of the two serial ports can be configured as RS-232 or RS-485. These ports can be further configured to support SEL®-relay specific features of IRIG-B from pins #4 and #6, and power from pin #1.
• IRIG-B can be configured as modulated or unmodulated.
• The eight discrete inputs can be configured as Low Range (12-48V dc nominal) or as High Range (125V dc nominal).
Network Flexibility
The built-in, two-port switch enables multiple OrionMX's to be daisy-chained. This two-port switch can also be configured as two NICs. The SFP Port (Small Form-Factor Pluggable) can be populated with single-mode and multimode SFP transceivers, available from NovaTech Automation.
Flexible Power Capabilities
The standard wide-range power supply supports nominal voltages from 24-250V dc and 120-240V ac. A "power out" features (12V @ 1A) enables radio, converters and other accessories in the panel to be powered by the OrionMX. A Low Voltage 12-24V dc option will be available in Phase 2 with a power draw of less than 10W for battery-powered applications on pole tops and in vaults.
Cyber Security
A full suite of security capabilities is included in the OrionMX design, including:
• Strong passwords and user groups
• Remote Authentication with LDAP to Active Directory
• Integrity Measurement Architecture (IMA) to prevent malware
• Syslog event recording
• Secure protocols: SSH, HTTPS, TLS, SFTP
• Disable unused Ethernet ports