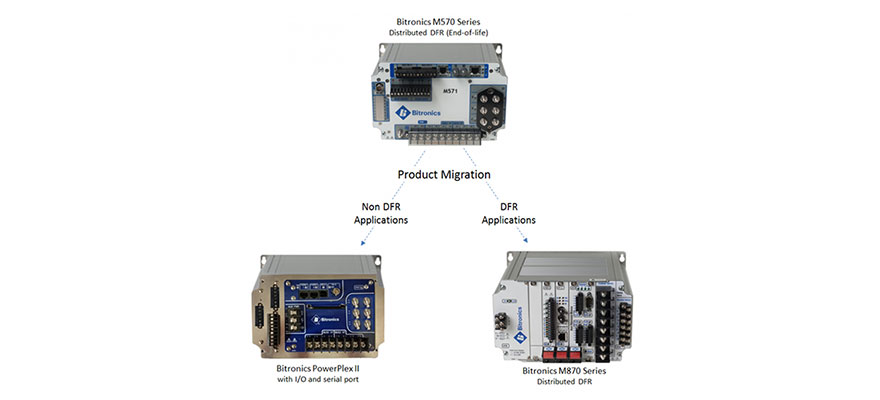 New Bitronics PowerPlex II Discrete I/O and Serial Port
PUBLISHED ON Aug 04, 2016
All Bitronics M570 applications can migrate to the PowerPlex II or the M870 Series.
These applications include monitoring of breaker position, monitoring of apparatus alarms, monitoring of rack-in/rack-out status of switchgear breakers, and remote breaker TRIP/CLOSE. Specifications for new I/O below:
Topology
Eight (8) discrete inputs
or
Four (4) discrete inputs/four (4) discrete outputs
Inputs
High speed, suitable for 1ms SOE
Nominal Input Range: 24V dc to 250V dc
Threshold Voltage: 15V dc +/-1V (at 25C)
Input Resistance: 33kohm
Input De-bounce Time: Selectable, from 1ms to 2s
Isolation
I/O Terminals to Case: 2000Vac, 1min
I/O Channel to Channel: 2000Vac, 1min (channel 4 to other channels)
Outputs
Tripping duty relay
Resistive: 30A
Continuous Carry: 5A
Break Inductive @48V dc: 700mA
Break Inductive @125V dc: 200mA
Output Operate Time (time from command by Host, does not include protocol delays)

Assert (Close time with "N.O." jumper): 8ms
Release (Open time with "N.O." jumper): 3ms
An optional RS-232/RS-485 serial port is also available on the PowerPlex II. In addition to providing a connection to the substation RTU, this port can also drive one or more D650 displays.
The PowerPlex II is now an excellent migration solution for M571 customers who require measurement, monitoring and display, but not fault recording. The PowerPlex II with the serial port and I/O options utilizes the M571 standard chassis and provides the option for DNP3, Modbus, or IEC 61850 protocols that were available in the M571. For recording applications, the M871 provides the same configuration tools and triggering/recording functions with the same footprint as the M571.