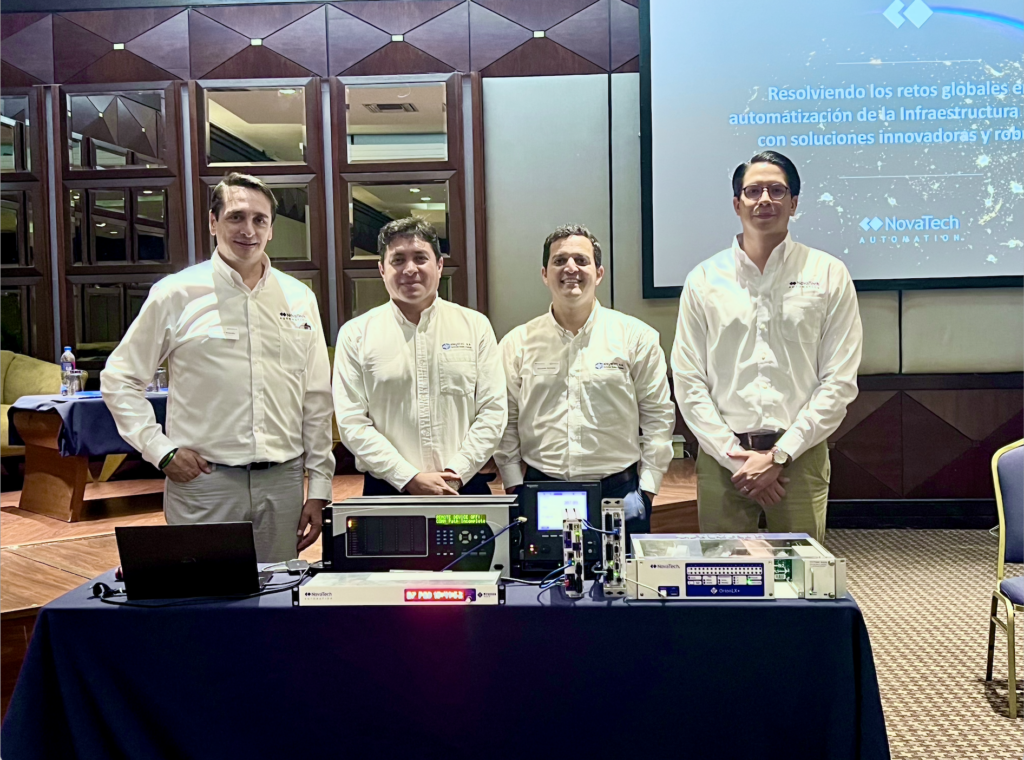 Jornada Técnica de Automatización: "Aplicaciones Avanzadas para el Sector Eléctrico" – Guayaquil, Ecuador
PUBLISHED ON Mar 29, 2023
*Please scroll down for English version*
El jueves 16 de marzo del 2023 realizamos una Jornada Técnica de Automatización: "Aplicaciones Avanzadas para el Sector Eléctrico" en Guayaquil, Ecuador junto a nuestro partner en el país Elsystec.
La jornada inició a las 9 a.m. en el Hotel Hilton Colón Guayaquil con la charla "Lanzamiento de nuevas soluciones NovaTech Automation" en el cual presentamos nuestros nuevos productos de la plataforma Orion y Kronos Satellite Clock. También se habló de la integración de una subestación típica multimarca y de las buenas prácticas para la sincronización de tiempo on SET, lo cual fue muy útil para todos nuestros clientes presentes ya que pudieron resolver sus dudas y compartir sus experiencias con nosotros.
El evento contó con dos coffee breaks y un almuerzo, lo cual permitió a los asistentes interactuar y compartir experiencias con otros profesionales del sector. En la tarde, se habló sobre los algoritmos para la automatización de redes de distribución y se presentó un caso de éxito de la empresa CNEL. Además, se discutió la implementación y puesta en servicio de un sistema SCADA de subestación y se presentó una guía para el cumplimiento de los estándares de ciberseguridad para infraestructuras críticas.
En resumen, la jornada técnica de automatización fue muy exitosa y permitió a los participantes estar al día en las últimas tendencias del mercado, actualizar sus conocimientos técnicos y conocer mucho más sobre la plataforma Orion y todos los productos de Novatech Automation. Los asistentes destacaron la calidad de las exposiciones y la posibilidad de interactuar con otros profesionales del sector.
Los invitamos a contactarnos en caso tengan dudas o comentarios:
Automation Technical Symposium: "Advanced Applications for the Electrical Sector" – Guayaquil, Ecuador
On Thursday, March 16, 2023, we held an Automation Technical Conference: "Advanced Applications for the Electricity Sector" in Guayaquil, Ecuador together with our partner in the country Elsystec.
The day began at 9 a.m. at the Hotel Hilton Colón Guayaquil with the talk "Launching of new NovaTech Automation solutions" in which we presented our new products of the Orion and Kronos Satellite Clock platform. They also discussed the integration of a typical multi-brand substation and good practices for time synchronization on SET, which was very useful for all our customers present as they were able to answer their questions and share their experiences with us.
The event had two coffee breaks and a lunch, which allowed attendees to interact and share experiences with other professionals in the sector. In the afternoon, the algorithms for the automation of distribution networks were discussed and a success story of the CNEL company was presented. In addition, the implementation and commissioning of a substation SCADA system was discussed and a guide for compliance with cybersecurity standards for critical infrastructures was presented.
In short, the Automation Technical Workshop was very successful and allowed the participants to stay up to date with the latest market trends, update their technical knowledge and learn much more about the Orion platform and all Novatech Automation products. The attendees highlighted the quality of the exhibitions and the possibility of interacting with other professionals in the sector.