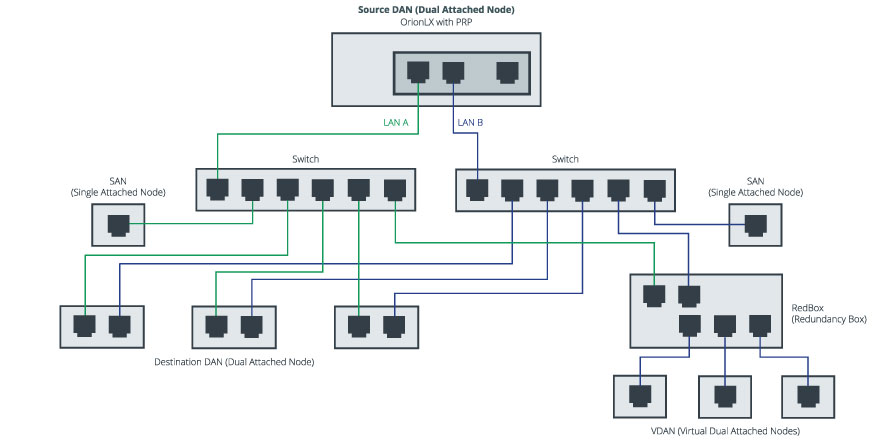 PRP Redundant Ethernet
PUBLISHED ON Dec 16, 2018
PRP Redundant Ethernet
Parallel Redundancy Protocol (PRP) and a field-installable redundant Ethernet board provide a higher level of network resilience for OrionLX units collecting critical data and controlling apparatus in electric utility substations. Scalable to any system size, the OrionLX PRP Redundant Ethernet solution is an addition to a suite of OrionLX features for redundancy: dual redundant power supplies, seamless primary/secondary IED management, SCADA comms failover and extensive field diagnostics.
About PRP
PRP is a standards-based international protocol (IEC 62439-3 Clause 4) that allows seamless Ethernet communication in the face of a single network disruption (such as a cable, driver, Ethernet controller failure or Ethernet switch failure). PRP is one of the two most commonly implemented Redundant Ethernet network protocols in substations, the other being High-Availability Seamless Ring (HSR).
PRP has ZERO packet drops when communication is disrupted, which is important for multicast / broadcast protocols where the receiver has no way to ask the sender to re-try if nothing is received. PRP operates independently of the protocol being transmitted (DNP3 TCP, Modbus TCP, 61850, etc.), has no time delay for switchover and recovery, requires no special configuration and does not rely on other higher layer protocols to operate. Networks can combine PRP IEDs and non-PRP IEDs.
In contrast to HSR Ethernet, PRP redundancy uses off-the-shelf switches, allows single Ethernet port devices to communicate (without redundancy), and is scalable to any system size without performance degradation.

Redundant Ethernet Board
PRP is implemented in the OrionLX in combination with a field-upgradeable dual Ethernet communications card (model number code PRPC). The unit must also be running with the OrionLX High Performance CPU.