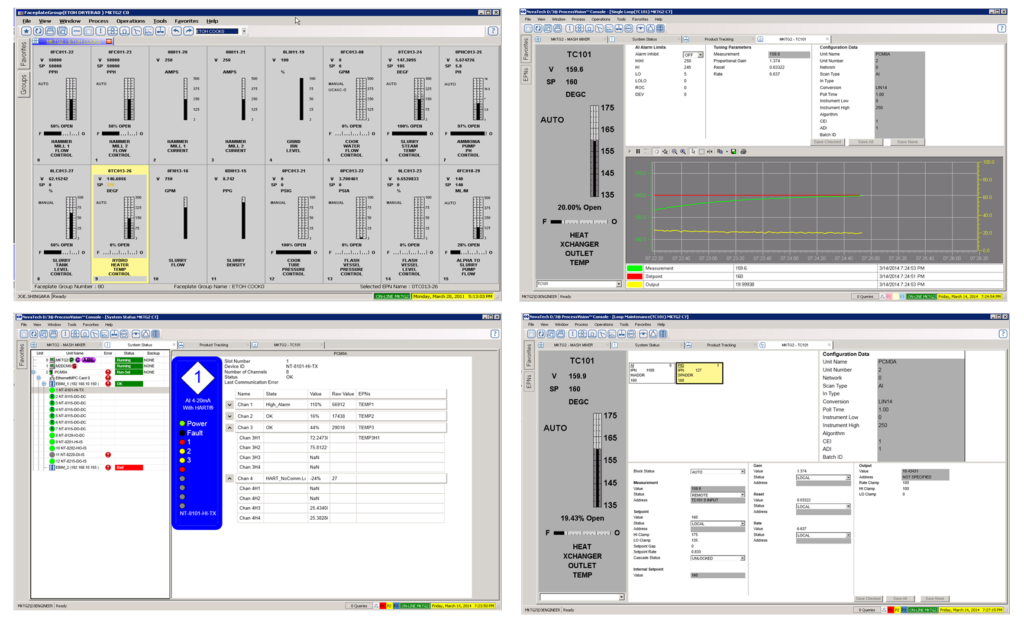 NovaTech Automation Releases ProcessVision™ Console
PUBLISHED ON May 01, 2012
NovaTech Automation
ProcessVision provides a more powerful, intuitive window into plant operations
OWINGS MILLS, MD – (May 1, 2012) NovaTech Automation is pleased to announce the release of the newly developed ProcessVision™ Console software.  ProcessVision is a state-of-the-art console that enhances the ability to easily and securely monitor, analyze, and adjust production processes running on the D/3® Distributed Control System.  The great, classic features that D/3 users know and love are now available in a sleek, point-and-click HMI. ProcessVision provides operators, engineering staff, and plant managers with more intuitive navigation, superior diagnostics, and the latest security features – all of which lead to more coordinated, efficient, and cost-effective management of plant operations.
Operators can get up to speed quickly with a library of video tutorials and improved search and auto-complete functions. Its browser-like navigation includes tabs, favorites, sessions, and automatic print scheduling capability. ProcessVision automatically creates diagnostic displays such as Single Loop, Loop Maintenance, Recipe, Product/Batch Monitoring, and System Status displays. The System Status display effortlessly drills down from the entire D/3 System to individual I/O channels, allowing users to quickly determine the real-time status of each I/O module, channels within a module, input values of each channel, what tags are assigned to a channel, and which channels are unused.
Engineering staff can take advantage of global synchronization of tag modifications, better diagnostics for event analysis and recovery, and enjoy no-hassle, easy to configure displays.
Plant Managers will appreciate the enhanced cyber security, reduced off-spec product, easier knowledge transfer between senior and junior operators, higher equipment utilization, the ability to run ProcessVision in parallel with previous consoles, and the responsive 24/7 support of NovaTech Automation personnel.
ProcessVision integrates seamlessly with the D/3 TotalVision® graphics engine and InstAlarm™ alarm management package, providing comprehensive visualization of the process, system, and I/O components.  ProcessVision facilitates 21-CFR-Part-11 compliance and utilizes the Microsoft security and authentication model.  ProcessVision is Windows® 7-Compatible, works with Windows 2008 server, and can run on any standard PC, server, thin client, tablet and smart phone.
"The ProcessVision Console is the next step in NovaTech Automation's on-going initiative to provide high-performance process control and visualization products that provide value to our customers," shared Jean Bandy, Vice President of NovaTech Automation Process Division. "The D/3 has always been known for its power, flexibility, and reliability, and now, it's even easier to use."