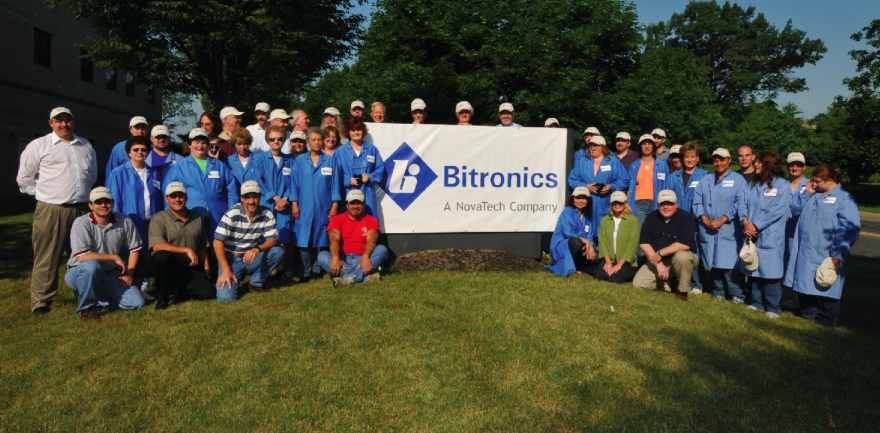 Five Year Reunion: Bitronics Acquisition Adds Growth and Quality
PUBLISHED ON Jul 17, 2008
Bitronics Augments Strong, Steady Growth
NovaTech Automation LLC recently reunited with former partner company, Bitronics LLC. The addition of Bitronics to the NovaTech Automation family caps a five year trend of sustained growth that has resulted in expansions to our Owings Mills, MD facility, a move to a much larger Lenexa, KS office, and an approximate doubling in monthly total bookings.
In late May, NovaTech Automation Utility's Lenexa headquarters relocated from a 14,560 square foot facility (occupied from 2004 – 2008) to a 38,000 square foot facility to accommodate increasing production and personnel requirements.  The new building happens to be located directly across the street from the offices that NovaTech Automation Utility occupied back in 1991.  Since then the Utility division has undergone a fourfold increase in square footage and a fivefold increase in personnel.
Our Process headquarters in Owings Mills has expanded its footprint by 4,000 feet of new offices and a larger computer equipped classroom comfortably seating 20+ students.
Finally, on July 1st, NovaTech Automation signed an agreement with AREVA T&D to acquire Bitronics LLC, a manufacturer of high-performance electricity measurement instruments including the M871 and M571 multifunction IEDs, PowerServe Digital Transducer, MultiComm Digital Meter and other utility-grade measurement products.  They will continue to be designed and manufactured in Bethlehem, PA, by Bitronics LLC, and will be marketed in the U.S. and western Canada under the well-known Bitronics brand.  NovaTech Automation will supply, under the AREVA label, the Bitronics products for their inclusion in the global AREVA offerings.
Volker Oakey, CEO of NovaTech Automation notes, "NovaTech Automation Process customers seeking to optimize their conventional energy usage, as well as those installing co-generation systems and biomass gasification systems, will benefit from using Bitronics measurement products as part of their total Energy Management Solution."
NovaTech Automation Corporate Director Vince Horvath, who held the presidency of Bitronics for seventeen years and  admits that the alliance, "has both strategic and personal value.  The engineering and manufacturing expertise will enhance NovaTech Automation's value to customers, while I will enjoy working to grow the reunited businesses with the help of my Bitronics colleagues."