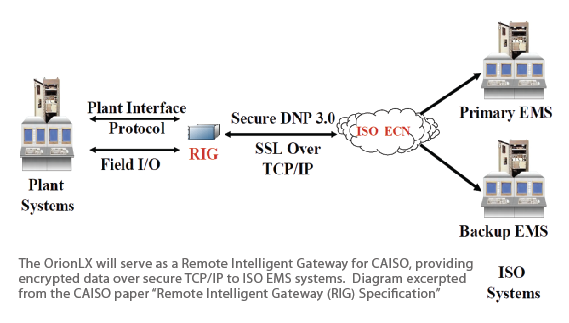 OrionLX Added to CAISO Vendor and Third Party Engineering Firm List
PUBLISHED ON Jun 28, 2010
Remote Intelligent Gateways (RIGs) spec calls for secure, encrypted DNP3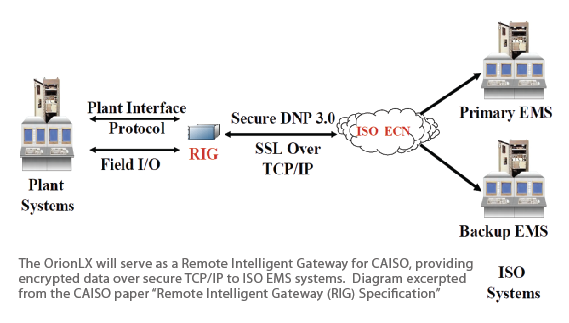 The latest California Independent System Operator (CAISO) specification for Remote Intelligent Gateways (RIGs) calls for secure, encrypted DNP3 communication between EMS and RIGs, per the diagram shown above.
The OrionLX has been enhanced to meet this latest CAISO security requirement and has been added to the CAISO Vendor and Third Party Engineering Firm List, opening the door for expanded application in California wind farms and other distributed generation sites. Other OrionLX enhancements for CAISO included a health-check heartbeat every second and bumpless transfer of generator control from local to remote.
The OrionLX security implementation is provided by wrapping DNP3 with SSL/TLS protocols in the transport layer level. Transport Layer Security (TLS) and its predecessor, Secure Socket Layer (SSL), are cryptographic protocols that provide security for communications over networks such as the CAISO ECN or the Internet. TLS and SSL encrypt the segments of network connections at
the Transport Layer end-to-end.
For more details, please see "Remote Intelligent Gateway (RIG) Technical Specification" and the document with the complete list of approved vendors at http://www.caiso.com