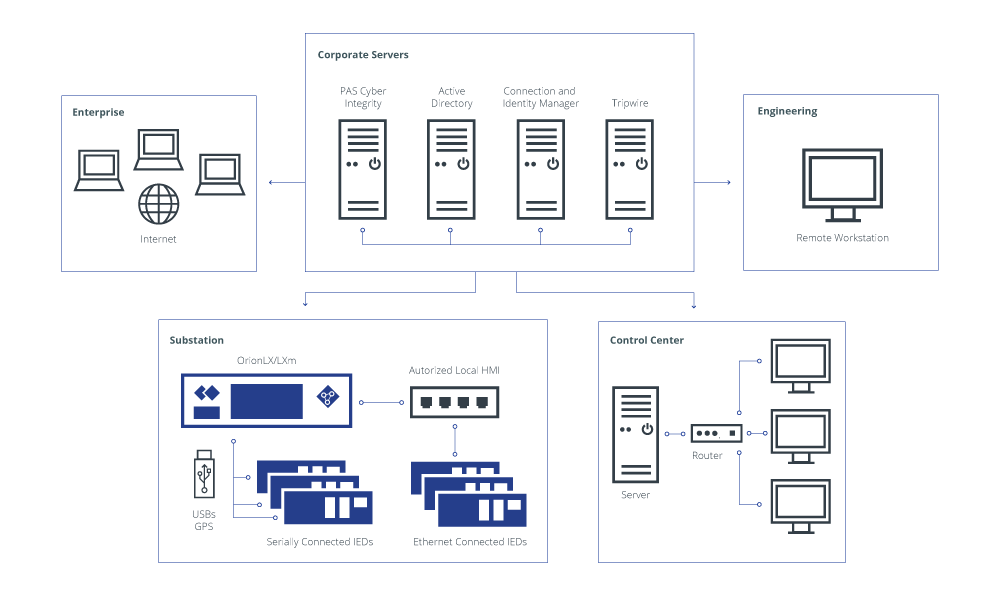 NovaTech Automation and PAS Developing NERC CIP Solution
PUBLISHED ON May 06, 2014
NovaTech Automation and PAS (Houston, TX) are jointly developing a NERC CIP compliance solution to address the latest Version 5 requirements. NovaTech Automation will provide CIP-compliant Remote Access and Administration of IEDs, including Password and Connections Management. PAS will provide compliant products for Inventory, Configuration Management, Change Control and CIP Reporting for Bulk Electric System assets.
System Functions include:
Password Management
User passwords and host passwords are centrally managed in the NovaTech Automation Password Manager  authentication server. Each user receives a strong individual password (strength and change rules defined by administrator), and is assigned to groups and roles with specific privileges for simplified administration. Relay and other IED passwords can be automatically changed to either random or user-defined passwords (based upon strength rules). An optional "Emergency Password Checkout" mode will be available to temporarily, manually provide an IED password to substation personnel when the communication is lost between the substation and the authentication server.
CIP-Compliant Remote Access
The NovaTech Automation Connections Manager – both enterprise server and "agent" running in the OrionLX – will work together to create an encrypted connection to substation IEDs. All user interaction with substation relays and other IEDs goes through the Connections Manager and is monitored and logged.
Inventory
Cyber Assets are entered into the PAS Cyber Integrity Server and classified into BES Cyber Systems. The "Baseline Configuration" is also loaded for each Critical Cyber Asset, including settings files, patches, logic files, and other attributes.
Configuration Management and Change Control
The active configurations from Critical Cyber Assets in substations are automatically accessed by the OrionLX and transferred via SFTP to the PAS Cyber Integrity Server. The PAS Cyber Integrity Server compares these active configurations to the Baseline Configuration on file. The work processes to manage changes and violations are set-up and managed on the Cyber Integrity Server.
NERC CIP Reporting
The PAS Cyber Integrity Server facilitates continuous compliance monitoring, documents compliance, and full reporting to support annual filing requirements as well as adhoc reports for audit support.
Please contact your regional sales representative and we'll coordinate a demonstration of this joint NovaTech Automation PAS System.