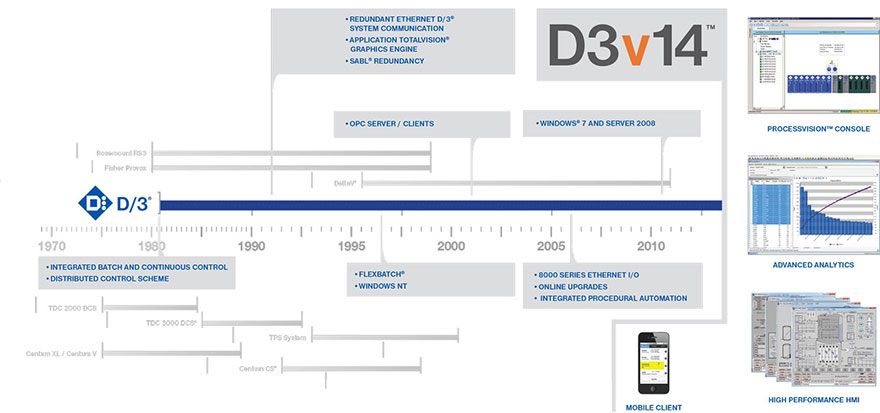 D/3 Version 14.1 Release Announcement
PUBLISHED ON May 01, 2013
NovaTech Automation
Evolutionary Process Control for the World Market
NovaTech Automation D/3® Version 14.1 delivers Reliable, Efficient, Sustainable and Secure Process Automation for the Global Enterprise
OWINGS MILLS, MD – (June 24, 2013)  NovaTech Automation, LLC has released Version 14.1 of our D/3® Distributed Control System (DCS), the only DCS that incorporates the latest functionality while continuously preserving existing investment in applications, system hardware, and I/O subsystems. D/3 Version 14.1 (D3v14) features the most powerful process controllers and built on a truly open hardware and network design philosophy.  D3v14 is the automation system of choice for the worldwide facilities of many US Fortune 500 firms and supported by NovaTech Automation's global offices and the growing network of integration partners in Taipei, Vietnam, Brazil, Guatemala, Poland, and Ukraine.
One such facility is Eastman Chemical Company located in Kingsport, Tennessee. "Eastman's involvement with NovaTech Automation and the previous owners of the D/3 DCS product line extends over thirty years," said Terry Browder, Eastman Control Systems Analyst. "We purchased our first D/2 Batch System in 1979 and a D/2 Interlock System in 1980. Today, we have D/3 DCS systems in our Polymers Manufacturing, Chemicals Manufacturing and Research/Technology Divisions. We are pleased to see NovaTech Automation's commitment to improving the D/3 product and look forward to continued success in the future."
Volker Oakey, Chairman and CEO of NovaTech Automation responded, "Our philosophy is consistent. We continue to meet our core values of providing first class automation –we protect the investment of our customers and we provide the lowest long term cost of ownership.  The response from our customers to the latest D/3 release confirms our value proposition.  That's why we earn loyalty."
NovaTech Automation's D3v14.1 continues the tradition of delivering higher levels of performance as it supports multiple languages and incorporates over a hundred new features that increase operational safety, reliability, efficiency, and security.
RELIABILITY
D3v14.1 delivers greater system reliability, enables faster recovery from plant equipment failures, and brings a more intuitive human machine interface to the operations staff.  The ProcessVision™ Console provides comprehensive process and system diagnostics information to operations and technical staff with minimal configuration required.
EFFICIENCY
D3v14.1 provides enhanced tools for engineering staff to make online changes and debug sequence and batch programs.  Operators benefit from display hierarchies that are easy to understand and navigate, information that is delivered in a more graphical manner, and the ability to embed any web-accessible data resources into the ProcessVision™ Console.  Furthermore, browser-based TotalWebVision™ graphics and trends and the new D3Express™ cloud-based mobile application can deliver critical information to staff members anywhere, anytime, and on any device.
SAFETY
D3v14.1 fully integrates the PAS PlantState Suite® product to expedite compliance with the ISA 18.2 Alarm Management standard.  Version 14.1 includes over four hundred new High-Performance Smart Graphical Objects, enabling users to develop process graphics promoting greater situational awareness and enhancing the operator's ability to make timely and accurate decisions.
SECURITY
D3v14.1 enhances security with integrated Microsoft Windows authentication and protects engineering and operator access with an extensive and granular selection of privileges.  D/3 provides comprehensive logging of all user activity to facilitate 21 CFR Part 11 compliance.  ProcessVision may be configured for automatic inactivity log off and sessions can be set up to manage and lock the layout of the entire console desktop over multiple screens.
GLOBAL
D3v14 is supported by our global network of support offices and engineering partners across Europe, Asia, Southeast Asia and Central and South America.  As a true multi-language release, D3v14 provides leverages off-the-shelf native language HMI for international customers.