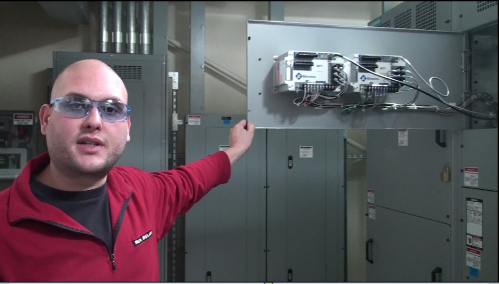 New Belgium Brewing Pursues Sustainability Goals with Bitronics
PUBLISHED ON May 02, 2011
Head Electrician Dave Benavidez shows off the Bitronics M571s monitoring the facility's 200kW solar array
New Belgium Brewing (Fort Collins, Colorado), which has grown in recent years to become the nation's third largest craft brewery, built their business on a culture of sustainability. This ethic manifests in employee-centered programs such as employee ownership, open-book management, and company-provided (and iconic) Fat Tire bikes. It also is evident in their energy and environmental engineering philosophy of continuous improvement.
The facility's sustainability-centered projects  include a 200kW solar array (the largest private  installation in the state), a wastewater digestion  process that offsets natural gas usage with local  methane, a newly installed 500kW CHP unit that  ties into the local utilities demand-response  programs, off-peak thermal energy storage of cold  water for wort cooling, and a commitment to  purchase wind power for the remainder of its  energy needs.
New Belgium has deployed Bitronics 70 Series  IED meters throughout their facility to provide  energy baseline data to measure efficiency goals against. Head Electrician Dave Benavidez says,  "with Bitronics we can put one [M572] into one  enclosure, and monitor two generation or consumption points with one device. The Bitronics  meters are significantly cheaper than the  competitors we looked at and offered all the  features we needed for Amps, KW, Voltage, frequency, and the logging capabilities of anomalies.  We also liked the Modbus  communication to the units over Ethernet."
The  brewery is also participating in a Smart Grid pilot project for the city of Fort Collins. Dubbed FortZED (for Zero Energy District), the project  aims to make the downtown area of Fort Collins  net energy neutral, producing as much energy from  local generation as it consumes. Using a  combination of energy efficiency measures, local generation and demand response from the brewery  and Colorado State University's Engines and  Energy Conversion Lab (which also uses Bitronics  meters), FortZED is among the most advanced  Smart Grid pilots in the US.